Creative classes for children at Peace@Heart in Walmer
Posted by The Little Pages - Dec 1, 2015
A great way to entertain the kids these holidays is to take advantage of the arts and crafts classes on offer at "Peace" of Art at the Peace@Heart Creative Village in Main Road Walmer.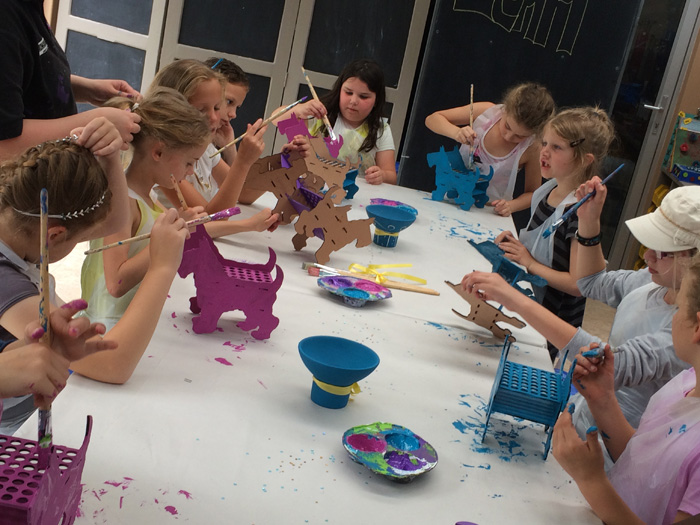 Children's art classes are available everyday during the holidays,
either from 10am - 12 or 2pm - 4pm.


Classes will conveniently be running every day throughout the holidays (except public holidays) and are suitable for children ages five and up. Boys will also love the arts and crafts activities that are geared especially for them.

The sessions last for two hours - just enough time for mom to get some Christmas shopping done or if you prefer, enjoy a cup of coffee at the on-premises coffee shop. If you have younger children, you can sit back and relax while they make use of the kiddies play area under your watchful eye.

Shopping can also be done under the same roof as A "Peace" of Art is also an arts and crafts supply store where you can buy all your crafting supplies from scrapbooking to mosaic to quilting and lots more. They also stock toys and gifts.

If you have a child's birthday party coming up and are looking for an idea to entertain your young guests, remember that children's creative parties can also be booked with "Peace" of Art. The center offers a spacious and creative environment to facilitate festivities with an outdoor play area to enjoy as well.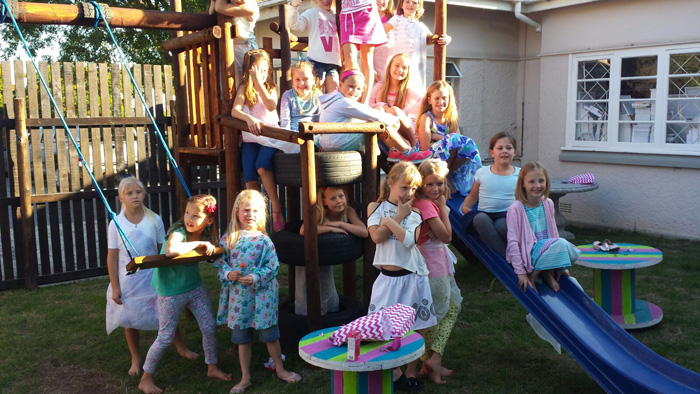 Children enjoy the creative environment (indoors and out) at the Peace @ Heart Creative Village


The classes on offer are not just for children, adults looking to release some creative energy and find some peace and relaxation can also sign up for one of the available workshops. Options include mosaic, decoupage, mixed media, pewter, scrapbooking and quilting. The adult workshops are also ideal for corporate team building events.

The centre offers ample parking and guests are invited to step into a tranquil atmosphere where creative expression is a priority for the young and old.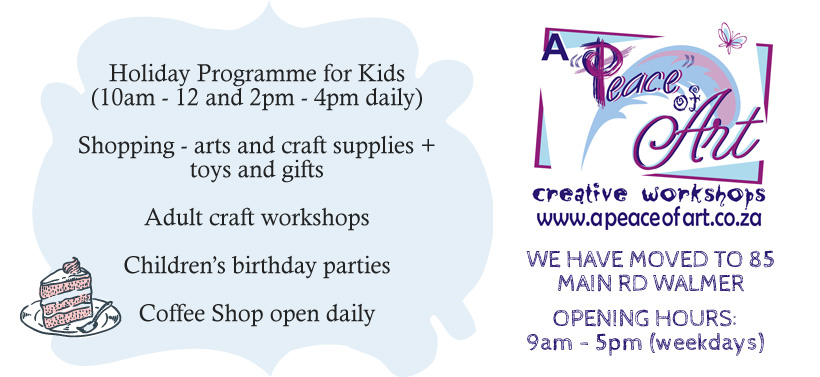 Share this:
Tweet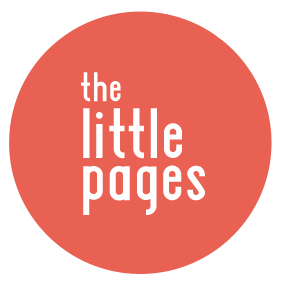 about the author
The Little Pages brings you local content for families in the Port Elizabeth area. We love getting to know interesting parents and business people in the city, bringing you interviews as well as our monthly Mom of the Month feature.

If you have some news that you think may be of interest to parents in our community, you are welcome to contact us and tell us more.
popular posts
We are super excited to share our first Mom of the Month feature with our readers. Kelly is a beautiful, inspiring mom who is full of joy and an...
While lying in my son's bed last night while he fell asleep, I began to think about my parenting journey thus far. A humbling experience to say...
Ilze is mom to six year old Ceri and five year old Trace who has Down Syndrome. This single, working mom says that her mothering journey has...