Considering your birthing options? These five women share their birth stories, each one unique and precious.



What was your birth plan going in and was an epidural part of it?
I never really had a birth plan going in but I was erring on the side of natural birth.
What made you choose to use an epidural for pain relief?
With my first, Abigail, she had turned around and according to the Dr the contractions would be very painful and in my back, so I opted to have an epidural. With my second (Caleb) and third (Ella-Mae) I was vomiting from the pain so they gave me a mild epidural. Which I preferred to the first as I could still feel all the contractions and could push far more easier. The epidural just took away the edge.
At what point in your labour did the doctor administer your epidural?
I was about 8cm dilated with my first and 9 with the other two.
Share a bit about your experience of labour before and after your epidural?
With Abigail, I had no real pain from the contractions and the recovery from the epidural didn't feel long. I remember falling asleep with her in my arms. Looking back I should have maybe waited longer before opting for the epidural. With Ella-Mae my recovery seemed to take longer but I think I was rushing myself as the procedure in the hospital changes as far as weighing etc of babies. With my first two the baby was taken away but with my third the parents went with for all the tests and weighing.
Would you have/have you had an epidural again?
I think if I had to have another I would probably try not to but you never know until you get there!
What advice do you have for first time moms who are exploring pain relief options for birth?
There are so many books out there and Google. But don't read too much. You'll get yourself even more overwhelmed. Just be aware of the various types of pain relief and have an idea of what you would prefer. Things may not go according to what you have planned so be flexible to change. At the end of the day all that counts is that mom and baby are fine, so don't be too hard on yourself if things don't go entirely according to plan, because they probably won't.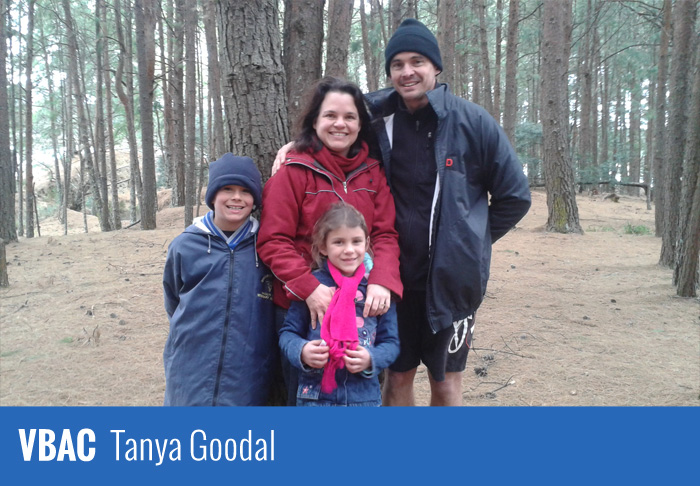 VBAC stands for Vaginal Birth after Caesarian Section

Tell us briefly about your first birth experience and why it ended up as an emergency caesar?
I was induced on my due date because I had severe pre-eclampsia and after 10 hours of attempted natural birth, my doctor called for an emergency caesarean. Matthew was 4.4 kg and very sick with Strep B infection- both of which meant a natural birth had already put him in danger. Matthew was put into NICU for 10 days and I spent 10 days in hospital struggling to get the pre-eclampsia under control. My first birth was incredibly traumatic because we both nearly lost our lives. At six weeks old Matthew was back in NICU with meningitis caused by the Strep B infection. He came very close to death again and the doctors warned us that if he survived he could be deaf or brain damaged. God had his hand on our boy and he recovered completely with absolutely no long-term effects from his illness.
What made you decide on a VBAC for the birth of your second child?
I didn't - but God knew that it was my hearts deepest desire and made it possible. Let me explain. Both the paediatrician and my gynaecologist were against me attempting a VBAC because I was such a high risk due to the risk of both pre-eclampsia and Strep-B infection with my second child- due only 14 months after my first C-section. I accepted their decision but continued to pray that God would make a way where there seemed to be none. I went into labour with my little girl three weeks early at 5pm and chose to stay at home as long as possible. By 5am the next morning when we went to hospital I was already 7 cm dilated and the doctor decided that I may as well give natural birth a chance. Kaela was born 2 hours later. I had no epidural, gas or painkillers and it was the most exhilarating experience of my life! Everything ran smoothly and both Kaela and I were perfectly fine.
What advice/input did you doctor give you regarding a VBAC and what was your doctor's attitude towards attempting a VBAC?
My doctor was actually very positive about VBAC's in general and was one of the few doctors that I knew of who encouraged them. Understandably, though, my first pregnancy was a very high risk and his concerns were well grounded.
How did you prepare yourself for your VBAC, did you do any research, chat to other moms who had had successful VBACs?
No, other than wanting one desperately, I laid it to rest and did not research it at all.
What is the most important thing, in your opinion, for a woman to know when considering a VBAC?
I think that one must understand the risks involved. If the reason you had a Caesarian in the first place puts you or your baby at risk – then it is not worth ignoring the advice of your doctor.
Tell us about your VBAC experience.
I went into labour with my little girl three weeks early at 5pm and chose to stay at home as long as possible. By 5am the next morning when we went to hospital I was already 7 cm dilated and the doctor decided that I may as well give natural birth a chance. Kaela was born 2 hours later. I had no epidural, gas or painkillers and it was the most exhilarating experience of my life! Everything ran smoothly and both Kaela and I were perfectly fine.
How would you compare a caesar and natural birth having experienced both?
There is absolutely no comparison! My Caesar was traumatic, painful and left me struggling for weeks. I struggled to lose the weight from my pregnancy and couldn't breastfeed because of the diuretics they gave me to bring down the swelling. It felt so unnatural – especially having my baby taken away from me so quickly. My natural birth was effortless and incredible – and left me feeling like I had climbed Mount Everest! The pain was under control at all times and after the birth I bounced back immediately and lost my weight quickly. I was also able to bond with Kaela immediately which I am sure ensured a successful breastfeeding experience. I breastfeed Kaela until 14 months.
What advice do you have for other moms considering a VBAC?
Consider the risks carefully. Make your decision as wisely as possible and then don't look back.
Be kind to yourself. I realised after having two such different birth experiences that I could never judge other women or myself for 'not measuring up' or 'not coping well enough'. My Caesar left me feeling inferior and disappointed while my VBAC (if it had been my first birth) would have left me wondering what all the fuss was about! So don't compare yourself to anyone else.
Trust God. He will come through for you if you 'rest not on your own understanding but in all your ways acknowledge Him'. If your prayer for a VBAC is not answered – still trust in the fact that He knows what is best for you and your baby.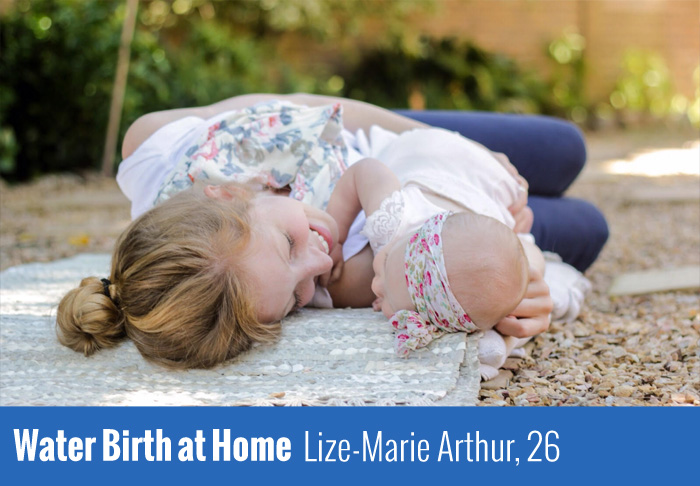 Was a home birth something you always imagined having or what made you decide on this birthing option?
The first time I heard about water birth or home birth being an option, something stirred in my heart and I instinctively knew that was what I wanted.
Did you do much research/chatting to other moms before making your decision?
I did do a lot of research, but unfortunately did not know any other moms personally who have done this before that I could chat to. A home birth is not something that's very popular in PE as we don't have a great support system for midwife births, but for me giving birth in a hospital without a real medical reason just was not an option. I wanted to be at peace in my own home, surrounded with only the people that I wanted there, eat and drink what I wanted to and just be relaxed and comfortable without having to fight off any unnecessary interventions
How did you go about arranging it, who did you need to contact, what needed to be organised?
First step was to get in contact with a midwife and making sure that we got along and agreed on what I had in mind for this birth and confirm that she would be available around my due date. From there we got the birth team together, so I connected with some doulas and gynecologists (back-up in case there is an emergency) until finding a team that we felt at peace with. Then we just had to arrange for a birth pool and set it up close to my due date, which our midwife helped us with. It was actually very simple and stress free.
What preparation did you do for the birth, and who helped you with this?
We did antenatal classes and I read as much as I could about natural birth and water/home births. I made sure that I understood what my body needed to do and I mentally prepared myself for that. I prayed, a lot. And got a group of close friends to pray for some specific things that I was faithing for. My midwife had a list of items we needed to have ready at home, like towels, food and drinks for energy, the pool etc and also things that she would be bringing with her for the birth.
Were you confident that you would manage without any pain relief?
Yes, even though people unfortunately put scary stories in your head and make you think you're crazy for even considering it. I did have TENS machine ready for early labour, which we actually didn't use and the warm water and massages from my midwife was an amazing help to deal with the intense moments.
Tell us about the day your daughter was born - how did it all play out?
I woke up around 3am with some discomfort around my lower abdomen and started feeling contractions while trying to get some more sleep in, eventually got up around 5am and started timing them to see if this was the real thing. They were very consistent and I knew, today is the day. I woke up my husband and let everyone on my list know that it's happening.

Hubby and myself decided to go out for breakfast and start the day slowly. With being out and about the contractions slowed down, but didn't disappear completely. Later the day we went for a walk to try and establish a better rhythm with the contractions as we were so excited to get this baby out. Around 5pm I let my midwife know that they were getting more intense (still not very regular in their pattern) and that I'd need some assistance soon in finding good positions to work with them. She arrived at 6pm, but by then I had actually gotten the hang of it and could probably have coped well on my own.

Around 10pm things started getting serious and I remember going to the bathroom when a contraction peaked and I couldn't do anything but grab onto the towel rail for support and for the rest of active labour that was where I stayed. It was quite a flimsy towel rail, so I just prayed that it would stay attached to the wall as it was the perfect hight to help me through the rest of labour. Somewhere around this time my doula had also arrived and between her and my midwife they were an absolutely amazing team.

At some point we started contemplating getting into the birth pool, but I wasn't sure if I would make it there before another contraction came and I didn't want to be without my towel rail. However as we were talking about moving I realized that things seems to have slowed down a bit, so I quickly moved on to the pool that hubby checked to make sure the temperature was perfect and as I got in, all I could think is that this is bliss. It was so warm and calm and easy, we all stocked up on coffee and juice as things slowed down and my body rested a bit before the next part came.

Before the coffee cups were even half empty I just just had this sudden urge to push and immediately everyone came running and things started happening more urgently. You could feel the excitement and anticipation that this is it. I have no idea how long this took and the details are a bit blurry, but I know that it was such a natural, primal and intense moment that it's hard to put it all into words. My water broke just before our baby was born and she just shot out in one final push, no step-by-step birth for this one. As I was turned around, she was brought up out of the water and placed on my chest. We were so in awe of what had just happened and she just stared at everyone, trying to make sense of this new world. We were at home as a family, where we belonged.
How did you feel about your birth experience afterwards?
I learnt some lessons for the next time, so no it wasn't all perfect, but it was such an amazing experience that I can't imagine giving birth in a place that is not my home. I feel proud to have been strong enough to have the birth that my heart desired and I feel excited to do it again and have an even better experience next time.
What advice do you have for other moms considering a home birth?
Surround yourself with a birth team that you feel comfortable with, don't let uninformed people scare you off with horror stories and trust your body to do what God made it to do.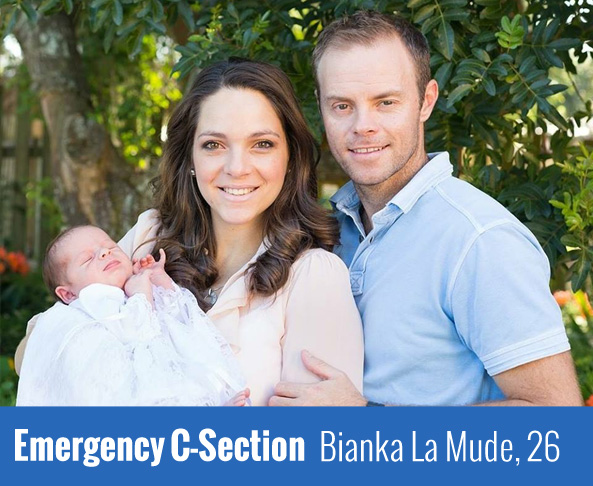 What was your birth plan going in to the birth of your daugther?
Every book tells you to write this wonderful birth plan , and many of my friends did have set ideas and a long lists of must haves and must nots. Mine was simply... Do everything to have natural birth, but be prepared and happy for a csection if need be. Oh and let's not forget the drugs , you need to have a clear idea on if your fore or against drugs. I wasn't going to be a hero and felt 100% happy with epidural.
Tell us a bit about your birth experience and why it ended in an emergency caesar?
My little angel just would not turn and stayed in breach right up u till 38 weeks, that's when the Gynie started to prepare me that a Caesar was a real possibility. However during my pregnancy I had started preparing myself after every scan that Caesar was looking more and more like a reality and my dream of natural birth was disappearing . At 39 week check up the Gynie said she had turned but was lying facing the wrong way. ( there is a term for that oblique I think). But I still wanted to wait incase she might turn to face the right way and move down into the birth Canal. That night of the 39 week check up my waters broke and I went I to labour. At the hospital my Gynie tried to maneuver her internally however she was still not in position and it was not safe for natural birth. I was rushed in to have an emergency Caesar straight away.
How did you feel about your birth experience afterwards?
I was not prepared for how painful the next day would be. How long it takes for u to walk normally, and how sensitive the cut is for a while afterwards. But everyone is different as some people recover quicker. I was one who struggled with a sore cut for my entire 6 weeks of recovery.
Did you ever feel like you had missed out on anything not having experienced natural birth?
I was very worried that I would feel like I had missed out but I was so lucky to have had my waters break and experience a few contractions. So I feel I got to experience a lot more than most, and felt content and happy then to have had a Caesar. I had prepared myself though, that Caesar could be a reality so that I didn't not feel upset or disappointed if it did end up in a Caesar. I was just happy to to finally have my princess in my arms no matter how she got there.
Would you go for a VBAC or a planned caesar the second time around if you have the choice?
I would still try for natural the second time if I had the choice. But again would not set my heart on anything as before.
What advice do you have for other moms who might find themselves in a similar position that you did?
I would say be prepared for anything and don't be ashamed or upset for not having natural. It does not make you any less of a women or mother. People will have comments and judge, but we can only do so much. Be happy just to have your baby no matter how they get here. Never set your heart on something that is not in your control. Our little bundles will continuously keep us guessing throughout the pregnancy and will have their own plan to get to us. Just be happy to receive them which ever journey they decided to take. It's worth it! I am so inlove with my baby girl and wouldn't change any experience or pain, as all that led me to having her in my arms today.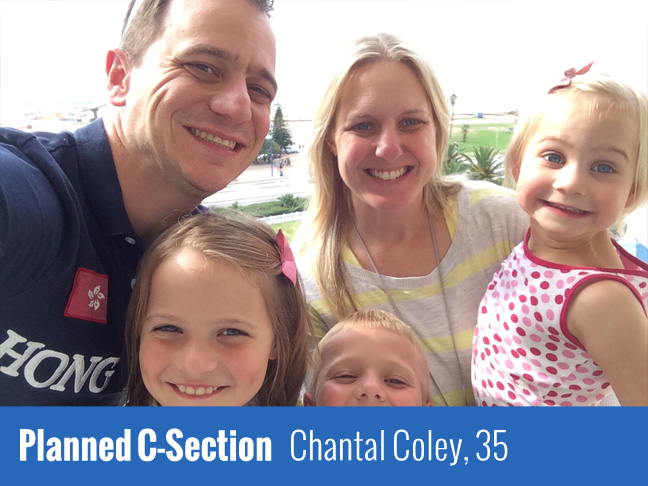 Tell us briefly about your first birth and why it ended up in an emergency caesar?
I was planning to have a "natural as possible birth". Preferable no drugs but maybe an epidural if it became unbearable. At 38 weeks I had a placenta abruption so had no choice but to have an emergency CS.
I had no bleeding or contractions, just a very sharp neck spasm that would not subside. It felt like I had woken up funny in bed that Sunday morning , and it got worse as the day went on. By the afternoon, I got grant to call the hospital and ask if there is something I could take for the pain, and they advised us to come in and get seen to. We didn't take the bag because I was not going to have my baby, I was getting my spasm sorted out. So off we went to the hospital to hopefully get an injection for the spasm to release because my fear was that if I went into labour, I wouldn't cope with it because of the bad spasm. Even the drive to the hospital was excruciatingly painful as every bump and gear change increased the intensity of the pain. On arrival, they put the contraction belt on and it showed my uterus was very irritable. The doctor explained that It was a deferred pain from the abruptio and the spasm would release and disappear as soon as the baby was out. I didn't believe the doctors and was devastated! I could only think that they are now going to leave me with a spasm pain as well as caesar pain.
I remember distinctly in theatre when the spasm released and I said its gone and they said that's she's out. It was that instant!
Did you have the option to consider a VBAC second time around, if so, what made you decide to rather go for a planned Caesar?
I was desperate for a VBAC, my doctor agreed but said that she won't allow me to carry past 38 weeks because of the previous abruptio. And she won't induce me. So if I go into labour before 38 weeks, then fine, but not a day later.
Again, devastatingly, it didn't happen and I had to have a CS.
What was it like approaching the birth date the second time around (and the third time around), this time knowing the day and the hour?
I was still very sad about not being able to have natural birth but made myself feel better by taking full advantage of the pros.
I had a manicure, pedicure, facial and wax all the day before my CS date. (Although still praying I would go into labour). I also really appreciated the fact that this time, I had my camera and hospital bag there before going to theatre.
My mom could also be there in time for the birth and to help with my toddler while I went to hospital. We live far from family so all that really helped logistically.
Did you feel more equipped for a Caesar after already having experienced one, or did it make you more apprehensive knowing what was involved in regards to recovery etc?
My second CS was not a great experience. I was very anxious before going in and very emotional. I was still fighting the fact I had to have a CS second time round.
The 3rd CS, I was in a much better state of mind and I accepted the fact that CS for me is the best thing. I had matured, I think too. You realize to not sweat the small stuff, there are people who can't even fall pregnant and here I was being fussy about my birth. I have 2 healthy children, what more could I ask for. I settled that in my heart and I had the most amazing birth experience for my 3rd CS. I was totally relaxed and enjoyed the whole experience very much.
Did you ever feel like you had missed out on something by not having experienced natural birth?
To be honest, yes, I used to think that even if I didn't have natural, at least I would have experienced labor. I never experienced one labour pain. but now coming through what I have and especially after experiencing such a wonderful 3rd CS, I feel I have got that peace.
Again, just focusing on what to be grateful for and what I do have, rather than on what I've missed out on or couldn't have.
Please share a bit about your birth experiences and how they played out...
1st one- emergency CS, no bag, no prep at all. Very traumatic
2nd one- "forced" to have a CS . I was resentful and very sad I couldn't have a natural. I also knew if I had 2 CS, then I would definitely not be able to have a VBAC if I had a 3rd child.
3rd one- absolutely wonderful. Felt good going in, had my nails and hair and wax done before the time. I felt good and confident and enjoyed being in control of the whole situation. I had a nice chat to to the doctors, it was just wonderful.
It has a lot to do with your attitude going in, trusting the doctor you are with and keeping the bigger picture in mind... Happy healthy baby and mom is the goal, the rest is all detail.
It's about the present, not the wrapping.
What advice do you have for other moms who are in a position where a planned caesar would be necessary?
Make the most of the advantages.
Have some me time the day before, or 2 days before. Do your hair, nails, etc. feel as good as you can, you can look good going into theatre, although you feel like a baby hippo by the end of the 9 months.
We kept the sex a surprise for us all.
Time, and date is already predictable, it's nice to still have some element of surprise for you as couple. People are then still waiting on the edge of their seats to hear, girl, boy, name etc. it's a little more exciting than just knowing the weight and if the baby has a lot of hair or not.
Share this:
Tweet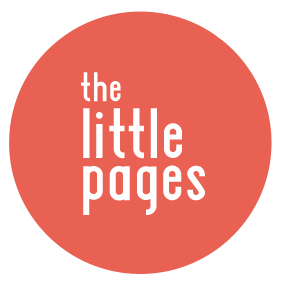 about the author
The Little Pages brings you local content for families in the Port Elizabeth area. We love getting to know interesting parents and business people in the city, bringing you interviews as well as our monthly Mom of the Month feature.

If you have some news that you think may be of interest to parents in our community, you are welcome to contact us and tell us more.
popular posts
We are super excited to share our first Mom of the Month feature with our readers. Kelly is a beautiful, inspiring mom who is full of joy and an...
While lying in my son's bed last night while he fell asleep, I began to think about my parenting journey thus far. A humbling experience to say...
Ilze is mom to six year old Ceri and five year old Trace who has Down Syndrome. This single, working mom says that her mothering journey has...