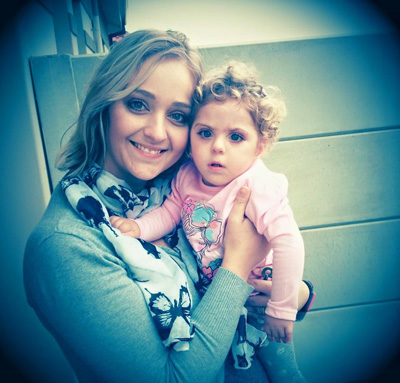 Leandri is mom to Gracen, who was diagnosed with an extremely rare genetic disorder shortly after birth. This incredible mom shared her story with us and lets us into her world where day-to-day struggles are a reality but so is an awe-inspring love of a mother for her daughter.
Gracen's condiiton is named Chromosome 17p13.3 Duplication Syndrome. She's the only known case in South Africa. She has endured extensive testing and hospital stays over the two years since she was born. Her struggles include epilepsy, developmental delays, feeding problems and susceptibility to infections.
You can follow Gracen's story and get in touch with Leandri here: www.facebook.com/gracenwallaceproject
Did you know that she had a rare genetic disorder before she was born, or did you find out afterwards, and how did you deal with it when you found out?
We only found out after her birth. Pregnancy was a bit stressful, because at our 12 week scan they said that her neck fold appeared to be shorter than it should be and she was also very small for her gestation. But we ran the necessary and routine blood tests and the Down syndrome test and it came back normal. So on our 16 week check she was hardly growing and my gynaecologist advised ultrasound scans every 2 weeks. So we were monitored every 2 weeks and Gracen was also very much under the lowest acceptable weight, but doctor put it down to my placenta not providing sufficient nutrients.

But otherwise she was absolutely perfect! I loved being able to see my baby girl on ultrasound every 2 weeks! On our 38 week scan it almost looked like she had lost weight from the scan 2 weeks prior. My doctor was concerned and did an amniocentesis straight away and said we needed to deliver. I was booked in for induction that evening. She was absolutely perfect and tiny when she was born! So 2 days after her birth, we were told that the paediatrician that did her delivery felt that she does not look completely normal and thinks that something might be wrong. Our world came to a standstill!

They took bloods from her and sent it away for genetic testing. 3 weeks later the results came back that she had an extremely rare genetic condition named Chromosome 17p13.3 Duplication Syndrome. She's the only known case in South Africa and also very few worldwide. On our first Cape Town trip the geneticist advised that we had microarray testing done, which we did. So bloods were taken from Gracen, myself and my husband and sent to the UK for testing. It confirmed her condition and also showed that she's the biggest size duplication so far on their records. Thankfully it also showed that Brent and I both have normal genes so it wasn't carried over from one of us. With regards to dealing with it, we take every day as it comes. And personally think that when you have a child like Gracen, you have to deal with it everyday. It's not something that you are going to deal with and it goes away, every day has its challenges.
Please tell us about some of the challenges that Gracen has had to face since being born 2 years ago:
Gracen's birth weight was 1.97kg. Straight after being born, she was then admitted to ICU as her birth weight was so low and she also developed pneumonia. So she spent her first 2 weeks of life in the PICU unit at Life St Georges Hospital.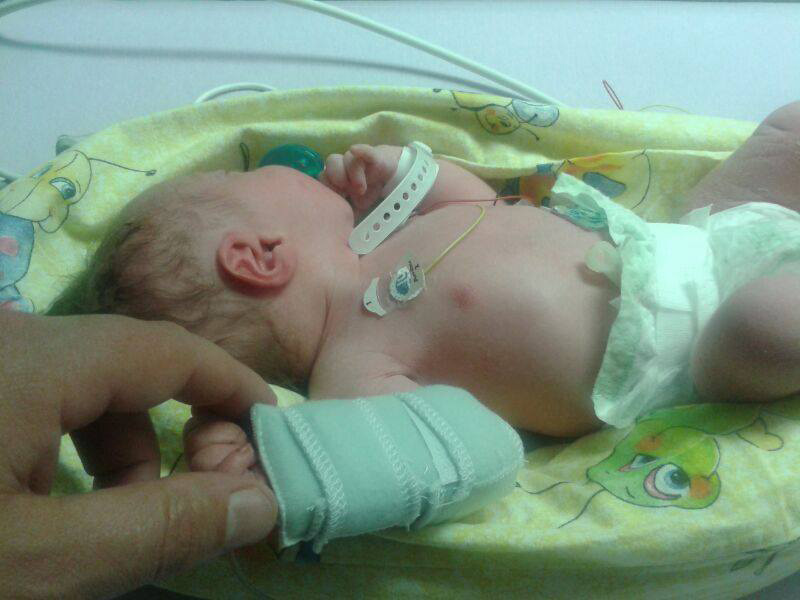 Gracen was born at 38 weeks weighing only 1.97kg. She was admitted immediately to ICU due to her
low birth weight and she had also contracted pneumonia.


From birth she struggled severely with feeding problems and reflux. She was hardly gaining weight and her growth was extremely slow - which we found after being diagnosed with her condition that it is actually a result of the condition.
Her first hospital visit was when she was 4 months old and was admitted for a chest infection. After that first hospital admission, our lives changed dramatically as Gracen was would never be home for less than 2-3 nights, for various reasons. At 6 months she was also diagnosed with Epileptic fits after being admitted for an EEG in the PICU unit. After that she was continuously being admitted for unknown viral infections, chest infections, vomiting, fever, gastro and the list goes on. Her body was just not able to fight anything and she was almost always on antibiotics.
So in her first year of life, she had 2 EEG's done; an MRI; many Barium studies; many blood tests; an intricate eye examination under general anaesthetic because of her nystagmus (involuntary rotation of the eye ball); various ear tests as she failed her hearing test in hospital after birth; physiotherapy because of her low muscle tone; suctioning of lungs whenever she got sick with chest infections because she could never cough up flehm due to her low muscle tone; Glue ear since 6 weeks of age due to the reflux; and then all the hospital stays due to her recurrent infections.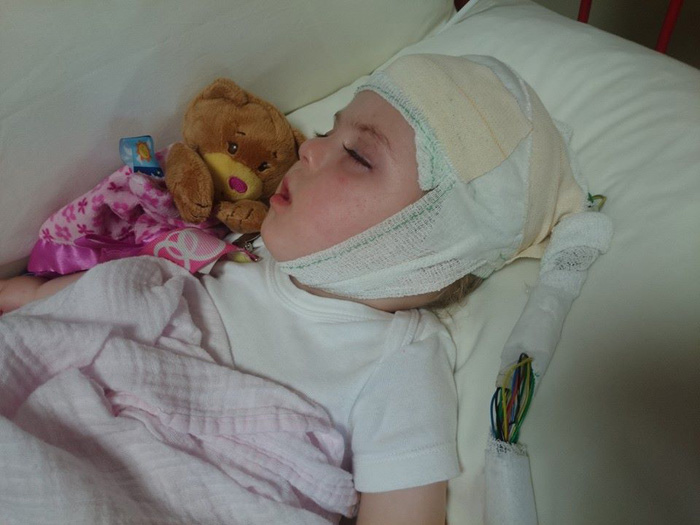 Gracen made her first trip of many to Cape Town in October 2014,
shortly after turning one, where she underwent a comprehensive EEG.


When Gracen turned one, we were referred to a paediatric neurologist in Cape Town for a more involved EEG. So we made our first trip to Cape Town in October 2014. There we met with the neurologist; a geneticist; a paediatric surgeon; a paediatric occupational therapist as well as a paediatric dietician. They couldn't change anything about her condition, but they were going to try and help her with her feeding problems. The EEG results showed that there was no more seizure activity in her brain and that we could at last wean her off the medication. Sadly, they also told us that the test showed that her brainwaves are slower than that of a 'normal' child. So in December 2014 we went back to Cape Town for Gracen to undergo her first surgery.

At the age of 15 months she had the Nissan reflux operation done as well as a temporary feeding tube put into her stomach. Little did we know that things were about to get worse. After surgery her feeding problems escalated - she was only able to take in very small amounts of fluid and after almost every feed she would break out in a severe sweat, vomit up everything she just consumed, gagged and wretched terribly, severe diarrhoea immediately after feeding, and eventually just pass out. This was after almost every feed. Surgeon kept reassuring us that it is normal and it was just that her stomach still needed to stretch from it being made smaller after the reflux surgery. It carried on like this for 4 months. It was 4 months we would never want over again. Seeing your child going through such distress and you can't do anything about it was torture and heartbreaking. I started doing some research and read that sometimes kids that have developmental delays develop a condition called Dumping Syndrome once they've had abdominal surgery. The signs of Dumping Syndrome described what Gracen was going through to a tee.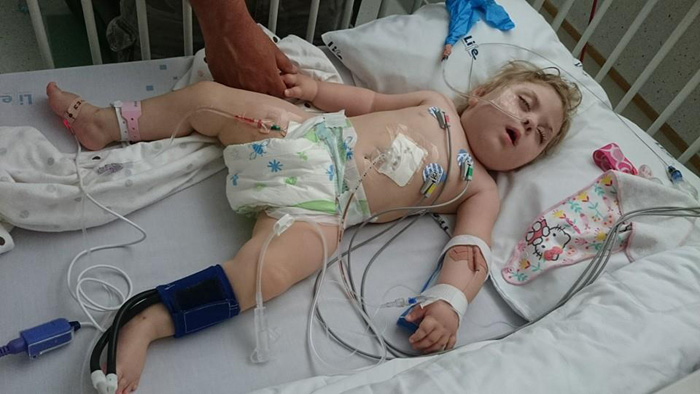 Gracen underwent her first surgery at the age of 15 months.


Our 3rd Cape Town trip was scheduled for April 2015, and that is when I also requested for the doctors to test her for Dumping Syndrome. So in April she underwent her 2nd surgery to have the long-term feeding tube put in, grommets inserted in both ears, as well as for the surgeon to check if her reflux operation came undone as she was vomiting so much. After the reflux operation you should not be able to vomit, but she was vomiting on a daily basis. So surgery went well and surgeon assured us that the Nissan is still in place. So the tests started and she was admitted to a different hospital. Dumping Syndrome is when your stomach dumps all the contents into the intestines too quickly and causes your sugar levels to spike too high too quickly. So they tested her glucose levels before and after every 3 hour feed and sometimes in between. They needed to prick her heels for every test, so after the first day her heels were turning purple already. The tests carried on for 3 days, and confirmed that Gracen did have Dumping Syndrome. So her diet had to change again, and we consulted with the paediatric dietician again.

Since being diagnosed with the Dumping Syndrome it has been easier, as we actually know what is wrong. Things started going much better and it felt like life was getting a bit easier, when in June 2015 we made 3 visits in a 2 week period to the emergency rooms. It appeared as if Gracen would stop breathing and actually turn blue, her body going completely limp. We were so scared and didn't know what was happening. After some tests and observations the doctors came to the realisation that Gracen's fits were back. Since June she is being treated for Epilepsy again. Soon after that Gracen's paediatrician told us that her slow growth was worrying to him, and that at the age of almost 2 years, her head circumference was still the size of a 6 month old baby. This means that if her head is not growing, then neither is her brain.

Now, at the age of 2 years, she only weighs 9.4kg. It was so devastating, but in our minds she is definitely showing improvement and currently that is all that matters. She also started attending a special care stimulation centre since the 3rd term this year and she has truly shown amazing growth and development since starting at Aurora. We also had to have a special standing frame made for her to assist her hips in developing properly as she doesn't stand or walk yet. She's also got special inner soles for her shoes whenever she does walking exercises as her feet severely fall inwards when she stands. She had a set of special braces made for her which she has to wear when she's not standing to assist in stretching her Achilles tendon and help correct her feet as they also point slightly outwards. Currently she is receiving physiotherapy, occupational therapy, hydro therapy and other stimulating therapies such as music therapy and light therapy.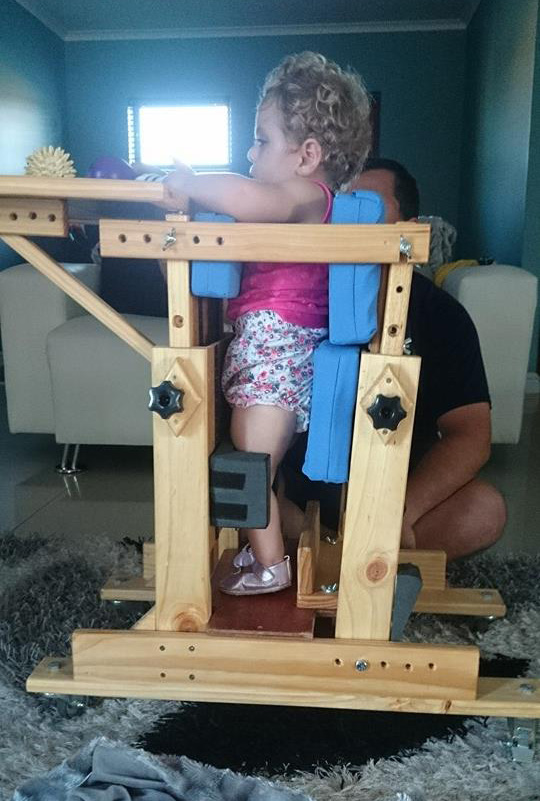 Gracen uses a special standing frame to assist her hips in developing properly
as she doesn't stand or walk on her own yet.


What are some of the biggest day to day challenges that you face as a mother to Gracen?
When you have a special needs child, the smallest things could be some if your biggest challenges. Her low muscle tone has delayed a lot of her development and she only managed to sit unassisted at the age of 15 months. Currently she can still not crawl or walk, so we need to make sure that she is continuously being moved around and stimulated. If she falls over from a sitting position she cannot get herself back up again. So being with her is a full time job. Unfortunately we as a family are not in the position for me to stop work and look after Gracen, so it puts a lot of strain on the people looking after her. She cannot really feed herself, but has now started feeding herself some finger snacks.

Another big challenge that I have to face a lot of the time, is accepting that many things in life are not going to be the way I imagined they were going to be. My child going to a normal school, playing sports, doing homework and projects with her, going to her graduation and prize giving, her matric farewell, my daughter getting married one day... All these things will have a completely different meaning to us as parents to Gracen.

How people react to Gracen also adds to my challenges. Sadly, society judges people these days on what they are and not really who they are. I am so scared that people will judge Gracen on her condition and limitations, and not give her a chance to steal their hearts with her angelic smile and personality. At the end of the day she is also just a little human being. But my biggest challenge is thinking too much about what the future holds.
Where do you draw your strength from?
We as a family have always been very religious, so yes I can say that God does give me strength. And of course our amazing support system. There are many times when I feel that surely I cannot handle any more, but then God will send someone along my way to tell me what strong parents we are, and I just know that we can do this. Whenever I look at Gracen I realise that she doesn't have any other choice but to go through whatever she's going, so therefore we don't have a choice either. We have to be strong for her and for each other.
Tell us about your support system and how this impacts the lives of your family?
We have an absolutely amazing support system. Our family, friends, church and community have stood by us and supported us more than we could ever have imagined. Every single person in our family just loves and adores Gracen and would truly go to the ends of the earth for her.

We also created a Facebook page for her - Gracen Wallace Project, and the support messages and encouragement we receive from people we have never even met, means more to us than anyone could imagine. Some of our friends and family have also had various fundraisers for Gracen to assist with all her medical/maintenance bills and the community and a lot of local businesses have supported every event so well.

Another group of people that have truly been with me every step of the way is our 'Mommies Group' which is our Antenatal group girls who remained friends after all our babies were born. They've accepted Gracen for who she is and they are extremely supportive. And most importantly is my husband. We help each other stay strong because at the end of the day only we know what the other one is going through.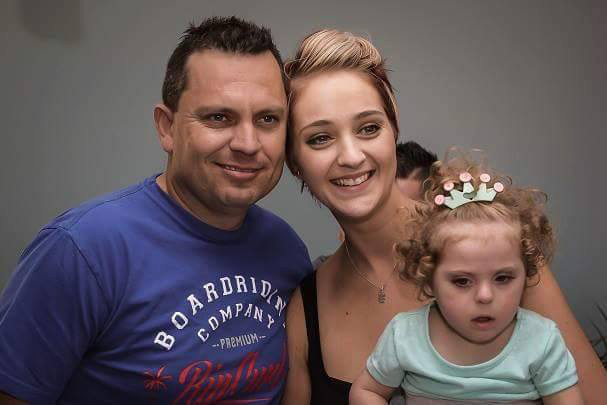 Gracen with her mom and dad on her second birthday in September this year.
She had a Bubble Guppies themed party as she absolutely loves the children's television show.


Please share with us a bit about what Gracen is like, what makes her smile and what does she enjoy doing?
Gracen LOVES the outdoors!!! She loves being outside. The moment you walk outside with her she gets excited and starts smiling. She also loves going on a swing; she will make her happy sounds and smile all the time, flapping her arms in excitement. She loves it when a person claps their hands; she thinks it is extremely funny and giggles so much that we all end up laughing at her laughing!!

She loves music; she falls asleep every night with her lullaby music playing softly in her room and she really enjoys her music class at school every morning. She loves her school and the teachers, the moment you walk into the front door she will start with her happy sounds and swaying from side to side in excitement. She absolutely loves the kiddies TV programme Bubble Guppies!!! She even had a Bubble Guppies 2nd birthday party in September and the moment the music started playing on the TV, she is almost hypnotised by their singing. And then of course, she loves to play Peek-A-Boo!!!

What is the hardest thing about having a child with a rare genetic condition?
The hardest part for me is the known and the unknown (if that makes any sense)... Knowing some of the symptoms is nerve wracking. It feels like you are permanently looking for something that is wrong and you end up driving yourself insane. The fact that most of the other cases are non-verbal already has me stressing and wondering about the fact if my Gracey will ever be able to talk?
With her low muscle tone I wonder, will she ever be able to walk? With her delay in development I wonder, will she ever be completely potty trained? You truly doubt yourself in a lot of things, only because not many people have walked this road before you. The fact that the condition is so rare makes it more difficult because then there is the unknown side of things. There are many unanswered questions and that causes me to be a bit paranoid and sometimes maybe a bit overprotective when it comes to Gracen.

Also, because it is so rare, very few people out there understand Gracen or her condition. I can't expect others to understand it if I don't even always completely understand it. But because of a lack of understanding some people might think that Gracen is being naughty when she is actually behaving normally, or people might think that the sounds she makes means she is moaning or wants to cry when she is actually busy "talking" to you. She is misunderstood in so many ways, and that is extremely hard.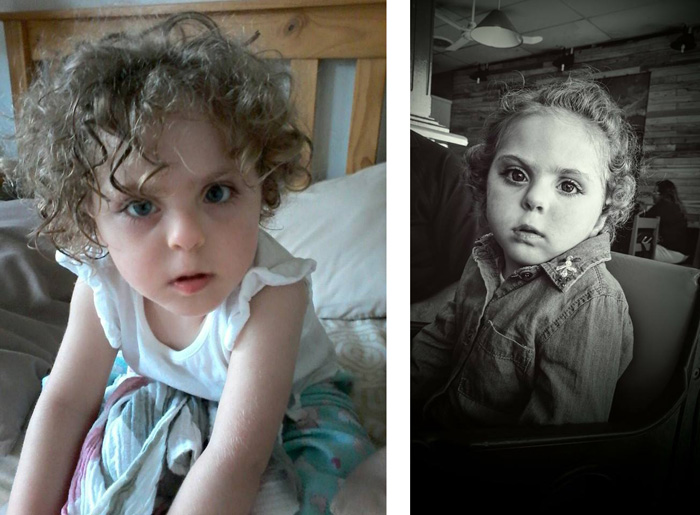 Gracen is now two-years-old, Leandri says that it is difficult not knowing if she will ever walk or talk,
but she tries to take things day by day and take heart in the progress she has shown, especially since starting at Aurora this year.


What message do you have for other parents who might be in a similar position to you and have children who need extra care and support?
Stay strong and stay positive. If someone offers you help or assistance, take them up on their offer! You need to put your pride in your pocket and ask for help if it's needed. You and your spouse need to stand together through thick and thin and remember that you still need to look after yourselves as a couple, because it is SO easy to get consumed with your situation and forget about everything else.

So look after your marriage and go on date nights to get a bit of a break. It's ok to think about yourselves for an evening!! Get a good support system and allow them to help you when necessary, even if it's just with a meal for supper. It is one thing less you need to worry about. Always trust your gut feeling! And lastly, love your child like today might be your last day together.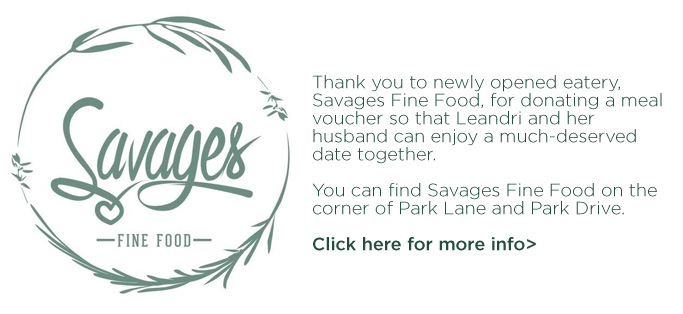 Share this:
Tweet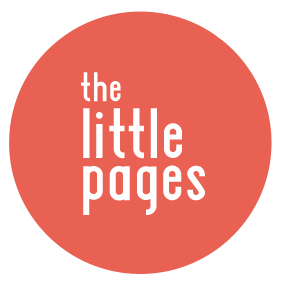 about the author
The Little Pages brings you local content for families in the Port Elizabeth area. We love getting to know interesting parents and business people in the city, bringing you interviews as well as our monthly Mom of the Month feature.

If you have some news that you think may be of interest to parents in our community, you are welcome to contact us and tell us more.
popular posts
We are super excited to share our first Mom of the Month feature with our readers. Kelly is a beautiful, inspiring mom who is full of joy and an...
While lying in my son's bed last night while he fell asleep, I began to think about my parenting journey thus far. A humbling experience to say...
Ilze is mom to six year old Ceri and five year old Trace who has Down Syndrome. This single, working mom says that her mothering journey has...