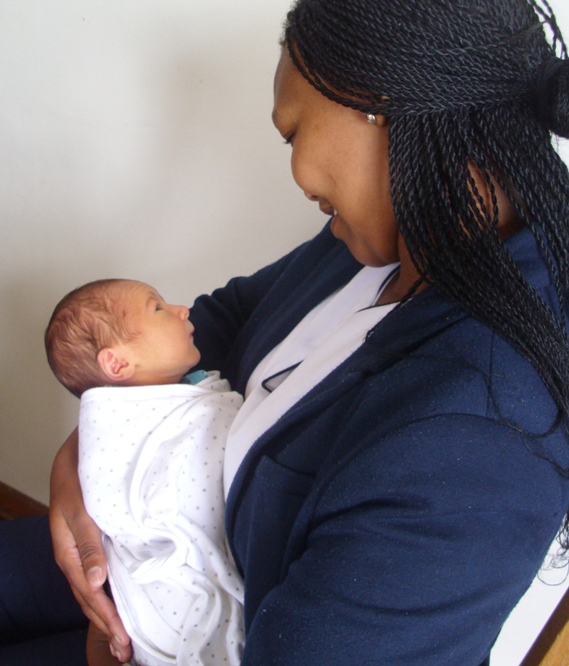 Isn't it amazing, that as each little baby is born, he is the most beautiful baby in the world? Each new mother, and father, falls head over heels in love with the cute little face of their newborn. In retrospect, and objectively, some of them are a little funny looking, but the wonderful thing is- it doesn't matter. This is a life-changing moment for the parents, a very special and personal memory that will stay with them forever. No baby has ever been so beautiful or so perfect.
And as he is introduced to his immediate family of adoring fans, everyone is in agreement- he is just the most beautiful baby in the whole wide world.
And then as he slowly grows and develops, they worship his every twitch, smile and gurgle. His parents and family of fans are in agreement once more- he is also the most brilliant baby in the whole wide world. No baby has ever twitched, smiled or gurgled so well. Isn't life wonderful?
Now if we fast forward a little, to the baby as he grows up through his toddler years, and then through early childhood, is he still the most beautiful and brilliant child in the whole wide world? Probably not- but this is the way it should be. Each baby and toddler needs this unconditional love, attention and admiration. He needs his parents and family of adoring fans to be in his court, believing in him, encouraging him, and cheering him on. I believe that we cannot give babies, toddlers and young pre-school children too much praise. I encourage parents to be over the top at this stage. And so should their family of adoring fans. After all, the child is growing and developing so quickly, that every little thing they do IS wonderful, and just the best they have ever achieved. They have never before walked so far, or talked so well, or climbed so high. Celebrate each achievement with your child.
But can it become a problem? Are we raising children to become praise-junkies, who are too dependent on all this attention? Do they grow up with a sense of entitlement- after all, he is the best child in the whole wide world. Is there a stage at which he has to start working a little to earn this title? Ask any teacher who is faced with a class of 30 children, who all believe that they are the "best and most brilliant" child in the world, and the answer will be yes!
So how do we prepare our child for this big wide world out there, and when do we start? When I had my playschool of 2-4 year olds, I praised and encouraged till the cows came home. I often thought it must sound ridiculous to an adult listening- but it wasn't meant for adult ears, it was meant for the ears of the 2-4 year olds, who were doing a sterling job, many of them away from home and in a group of other small children for the first time.
By the time they get to pre-primary, I think it should start (very slowly and gently, of course) to be earned by the child. It is a process, not a moment of change. But for example, every time he puts brush to paper, it is not necessarily an absolute masterpiece. In fact, maybe he could put a bit more effort into it sometimes. This is always done with encouragement of course, and never with a critical tone. But let him start earning the praise and attention- it will be good for him in the long run.
Let's also differentiate between praise for skills or abilities with a quantifiable or objective outcome, and praise for behaviour. Continue to praise your child for good behaviour, good manners, a respectful attitude, and for being helpful and kind to others. Until the cows come home, if necessary- this should be an ongoing process throughout all stages of your child's development.
So, please keep cheering and clapping for your child- he will thrive on the attention of his faithful family. But also remember to prepare for the day when he will be one of 30 children in a class, the day he will have to work a little harder to be noticed. That's how it is in the big wide world.
Share this:
Tweet
about the author
Sue is a 50-something wife, mother and retired teacher with a B Social Science degree in Social Work and Psychology, as well as a post-grad diploma in Pre-Primary education. She has 20 years of experience in teaching children between the ages of 2 and 6.

She has two sons, both in their twenties, and both successful in their chosen fields. Sue says "I have kept in touch with small people and their parents by babysitting for friends over the past 5 years, or so. I also look after my great nephew Caleb once a week. He is 19 months old now, and keeps me on my (slightly arthritic) toes."
popular posts
We are super excited to share our first Mom of the Month feature with our readers. Kelly is a beautiful, inspiring mom who is full of joy and an...
Ilze is mom to six year old Ceri and five year old Trace who has Down Syndrome. This single, working mom says that her mothering journey has...
Welcome to My Mama Made It! Thank you for taking the time out of your busy day to read the musings of a creative mom, wife, and entrepreneur.