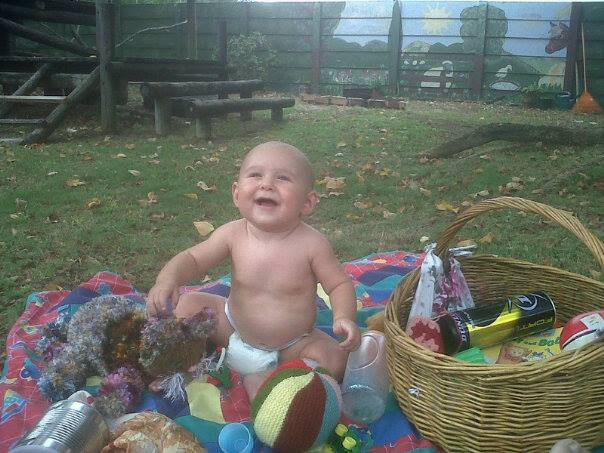 We all know that babies begin to grow and develop from the moment of birth. And although they thrive on routine, they also need varied activities during their waking hours to stimulate their development. But their concentration span is still minimal. It sometimes seems that whatever activity we choose, they lose interest after about 5 minutes. A day is made up of so many 5-minute periods, so how can we engage our babies and toddlers for longer, and turn those 5 minutes into 25 minutes?
Here are 5 examples of ways to stretch those activities, and retain our sanity at the same time. Most of these activities are geared for babies from about 6 months, depending on their needs and interests. And they are still valid as your baby turns into a toddler, and young child up to and including the pre-school years. I have used them with my great nephew Caleb, and will continue to do so as they make the day fun for both of us.
Manage the clutter:

No matter how many toys your baby has, he will soon tire of them. Piles and piles of plastic toys are actually rather overwhelming, and a little boring, especially if they include bits and pieces of different toys all thrown together. Divide them up into different containers, and rotate them, day by day. And keep some toys separate and out of reach (eg stacking cups, shape sorters, puzzles, duplo, building blocks etc), and bring them out as a special activity.
Of course, tots don't need expensive toys to keep them occupied and happy, so give them (safe) household objects as well, such as plastic cups and containers, wooden spoons, small cardboard boxes, silky scarves, pieces of material, etc.
Move outside:
Most babies and young toddlers love being outside, so take them outside as often as possible. Babies find the movement of the leaves and trees soothing, and taking a baby outside can sometimes distract him and break a fussy period. I know this helped with Caleb- he loved going out into the garden when he was a baby, and it definitely calmed him down. And it is often more soothing for mom to be outside as well, even if it is just a reminder that there is a big wide world out there.
And from a very young age you can make them aware of the noises around them (birds, dogs, cars, etc). It's never too early to start developing those all important listening skills.
If you don't have a garden, make use of pram walks and parks. Fresh air and exercise is good for everyone.
Music:
All babies and young children respond positively to music. Keep it soft, and age appropriate- it should never be another noise for your child to compete against. Marching music, dancing music, singing music, relaxing music- they all have their place in keeping your child happier for longer.
Messy Play:
This is my personal favourite, and can easily extend a 5-minute play session to at least 25 minutes. It involves a bit of planning, and sometimes a bit of cleaning up afterwards, but is really worth the effort, as your baby enjoys exploring a wide variety of tactile experiences.
Obvious examples are sand, water and mud. If you do not have a garden or sandpit, you can use a basin of sand or water on a balcony or stoep. Other examples include aqueous cream on a plate, flour and water to mix in little bowls, play dough and finger paint.
Make- believe:
Again, it is often the simple things in life which keep your little one occupied for longer. Playing with empty cardboard boxes, a "tent" made by throwing a blanket over a table, cushions and pillows, and silly dress up clothes (for toddlers).
Pack up their snack or lunch, and have a picnic outside-make it an event with a picnic blanket, basket and extra plastic plates, cups etc, so your little one can do lots of packing and unpacking. Take a walk around the garden, or the block. I am sure some of his soft toys would enjoy the outing too.
I hope these ideas help to make your little one's play time more exciting and enjoyable- and also help to tire him out for the other important time of the day- nap time!
Share this:
Tweet
about the author
Sue is a 50-something wife, mother and retired teacher with a B Social Science degree in Social Work and Psychology, as well as a post-grad diploma in Pre-Primary education. She has 20 years of experience in teaching children between the ages of 2 and 6.

She has two sons, both in their twenties, and both successful in their chosen fields. Sue says "I have kept in touch with small people and their parents by babysitting for friends over the past 5 years, or so. I also look after my great nephew Caleb once a week. He is 19 months old now, and keeps me on my (slightly arthritic) toes."
popular posts
We are super excited to share our first Mom of the Month feature with our readers. Kelly is a beautiful, inspiring mom who is full of joy and an...
While lying in my son's bed last night while he fell asleep, I began to think about my parenting journey thus far. A humbling experience to say...
Ilze is mom to six year old Ceri and five year old Trace who has Down Syndrome. This single, working mom says that her mothering journey has...