I use to blog under the handle 'It's How We Roll'. When my twin girls were first born, blogging was a trusty friend to me that gave me space to process and share my victories and questions. I really enjoyed it for a season and then... Mom blogging slipped right off my priority list for a while there. I'm so happy to be back in the circuit, sharing life with you.
Since we're still new to each other, I thought I'd share one of the first blogs I ever wrote with you....
-------------------------------------------------------
The Discovery of Twins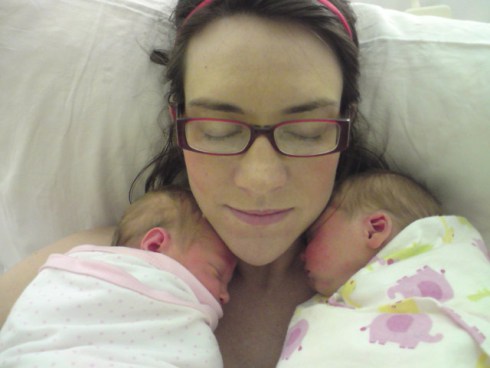 Right after we got married I had an IUD/Mirena put in because I was terrible at taking my birth control pills! (The IUD worked out much better for me as it's "no mess, no fuss".) Anyways, at the beginning of 2009, two years after we'd tied the knot, we spoke and decided to have my IUD taken out at the end of that year. We both needed the time to make sure that it was definitely what we wanted. So I booked an appointment for the end of October 2009... and so the year went on like any other. Every so often we'd check in with each other and ask something like "You still feeling good about 'trying' at the end of the year?" And 90% of the time the others response was something like "Yep. Lovin' the idea more and more".
So, as planned, at the end of October 2009 I had my IUD/Mirena removed. Husband and I were of the same understanding that we were not going to go to any great lengths to make a baby just yet. We were just going carry on like normal and if we had no bun in my oven in a years time, we'd start clocking and charting, etc etc.
My birthday is in mid-November and, as usual, I had planned a fun-filled theme party. This birthday was a bit more significant than usual though as I was also expecting (or hopefully not in this case) 'Aunt Flo' to visit around that time. Despite the fact that we'd said we'd keep it chilled and be all 'normal' about things, as my birthday crept up, I couldn't help but keep a close eye on the situation. That is why I distinctly remember Aunt Flow arriving the night of my birthday party. Even though it a little premature, I was slightly bummed. The excitement of making a little person of our very own had me giddy! So I had to remind myself that on average, it take 6-12 months to fall pregnant and that it would all happen in due time. So, I took a deep breath, relaxed and put it out of my mind.
I was free-lancing as a photographer at the time so I was heading into the busiest time of year (December-April)- wedding season. In fact, I had a number of weddings back to back, including a huge family wedding in another city. During this family wedding was the same time I was expecting 'Auntie' to come visit again. When the time came to travel off to the wedding, I packed my bags with all the necessary paraphernalia to accommodate. But as each day of family and wedding festivities rolled out, there was still no visit from Flow! I didn't want to steal any thunder or sound a false alarm so... I just smiled to myself, bigger and bigger each day, and waited patiently. (Ok, I did secretly tell Husband's cousin out of excitement but she kept her lips sealed very well.)
After a jam-packed week of family and celebrations and a long 9-hour drive, we arrived home. Within two hours of arriving home Husband had to leave for his brothers bachelors party so I IMMEDIATELY dashed off to the pharmacy. Along the way I patted myself on the back for being patient as long as I had BUT NOW I HAD TO KNOW! About 20 minutes and two tests later, I was walking around my house telling our dogs "Mommy's pregnant! Mommy's pregnant!" (Don't judge me. I was home by myself and couldn't tell anyone before I told Husband so the only trusted souls I could tell were my dogs.)
Later on that night, Husband found out he would forever more also be called Dad and was ecstatic. In the following days we had a blood test done to "officially" confirm (my blood count was completely normal by the way), booked an appointment to see my baby doc and told the families, who were over the moon!
A few weeks go by, and it is finally time for the ever-awaited first scan- yippee! I was suuuper excited to see the baby and hear a heart beat. So we meet with Doc and spend the first 20 minutes chatting about this and that concerning my pregnancy. Finally he says, and I will forever remember this as clear as the day it happened:
Doc: "Ok, well let's take a look shall we? Just to make sure the baby is healthy and rule out twins."
Me: "But why would you say that? We have no history of twins in either of our families and my blood count was normal."
Doc: "Ok, but we still just want to have a look."
So I hop on his exam table and on goes the exam gel & scanner. At this point I can't see the scan screen but just as soon as he'd put the scanner on my stomach I hear:
Doc: "Hmm, speaking of twins, that's exactly what it looks like."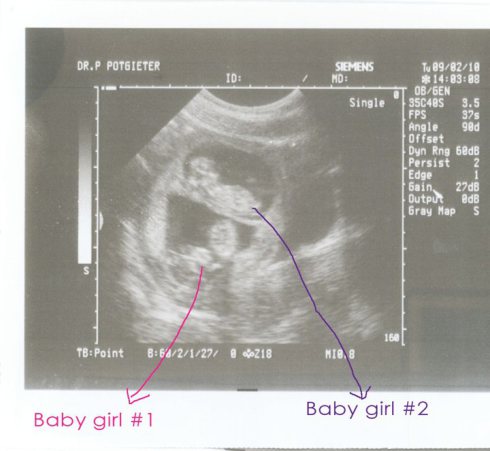 Everything else that happened after that point is a blur... except I distinctly remember lying there on the exam table laughing hysterically, a good kind of hysterical, for 2-3 minutes with my eyes as wide as saucers.
I can honestly say I've NEVER been more shocked in my life. A two for one deal- who would have ever thought? Certainly not I.
I was never one of those women who dreamt about having twins. But after my shock wore off, I was ridiculously excited! Although, for at least the next 2 months, as I told people I was expecting twins, in the back of my head I regularly wondered "is this real? Or have I made this whole thing up? Are there really two babies in there?"
Well, thirty-seven weeks, 6 kg's of baby, two massively swollen legs and a C-section later I was most certainly convinced it was real. At the end of July 2010 we welcomed our little girls- Keena Zoey & Blake Adelaide, into the world and our family.
Many twins are prem and small but, oh no, not our girls. Keena was a healthy 3.1 kg's & Blake 2.9.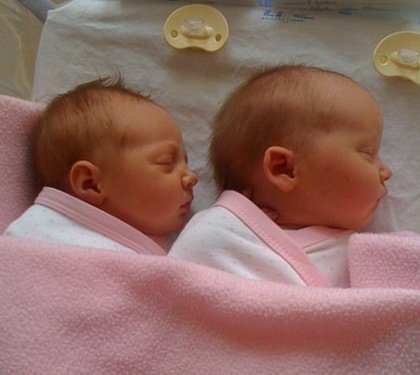 So that's how my motherhood began.
Now I have a 'Q' for you- Where you surprised when you found out you where pregnant? How do you feel about how you started out in motherhood?
By for now-
Ruth
Share this:
Tweet
about the author
popular posts
We are super excited to share our first Mom of the Month feature with our readers. Kelly is a beautiful, inspiring mom who is full of joy and an...
While lying in my son's bed last night while he fell asleep, I began to think about my parenting journey thus far. A humbling experience to say...
Ilze is mom to six year old Ceri and five year old Trace who has Down Syndrome. This single, working mom says that her mothering journey has...