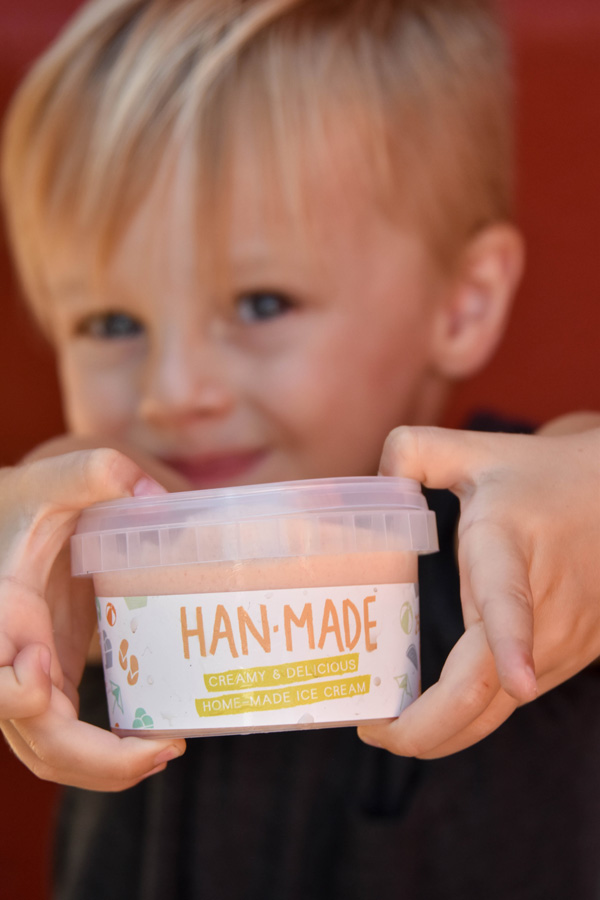 The sweet taste of success
Hannah Mclean decided to try out her homemade ice cream on the local market a few years ago. The tasty treats have crept their way into coffee shops, markets and malls across the city with her brand growing in favour for its fun and quirky approach and tempting taste. Hannah has recently taken the step to open a factory shop in Chiky's Yard (within an exciting development in the Baakens Valley). With her positive attitude and commitment to "making people happy with ice cream!", she is well-positioned to take her product and growing business to new heights. We chatted to her about ice cream and pursuing a dream..
How did it all begin - what inspired you to start making and selling ice cream?
I have always enjoyed being in the kitchen and experimenting with new recipes, and after making my husband a Kit Kat ice cream for his birthday a few years back, he basically insisted that I try and market it. Not long after that, "Han-Made" was born.
How did you get to where you are today?
I started out very small, I basically found one coffee shop (the friendly stranger) that was willing to try sell my product, I then got a friend to design the logo,
bought some packaging and sold my first few tubs. I am very passionate about the look AND taste of the product so that is what I have focussed on. I have a great designer who has helped me develop the branding I have today, and she is constantly working to keep it relevant and fun. I spend quite a bit of time in the kitchen working to make sure that we are using quality, wholesome, and as far as possible local ingredients. I have always worked for han-made part time, so the business has been able to grown at a steady pace without the pressure of needing to expand too quickly. It has been such fun watching the business grow, and finding new and exciting clients along the way.

We love your fun, quirky branding - what do you aim to communicate through your brand?
I want to keep the product fun, ice cream is a treat and the packaging should reflect that.
Do you eat a lot of ice-cream?
I am very passionate about good ice-cream, so if its good I will definitely eat it! But I am not such a sweettooth, which is what makes it possible for me to work
with such delicious ingredients all day!

How important do you think, is eating dessert?
Dessert is the most important! I always feel like a meal hasn't ended until you've had something sweet. And the nice thing about ice cream is that it is great
on its own, but can also be a nice side to a different dessert option. Blue Waters Café has done some great pairings with the Han-Made ice cream, my favourite is a Lindt dark chocolate brownie with craft beer ice cream!!
You are an aunt - tell us a bit about being an aunt (that makes ice-cream for a living)?
Well, it has obviously got me some brownie points always having ice cream in the freezer! I love being an aunt, I have seven nieces and nephews and it is such a privilege being a part of their lives. I am definitely influenced by being around them, seeing the products that are marketed towards kids today, and then finding my own way of reaching that market. One of my favourite things is watching a child eat my ice cream for the first time, there is something in the joy of children that is just so magical!
What is the latest news from Han-made?
We have just moved in to new premises in Chicky's Yard and are enjoying settling in and getting to know the neighbours. We have set up the factory there but it is also open to the public, if you want to order larger quantities then that is where you can collect etc. We do quite a lot of catering for parties and events so it is great being so centrally located and much more accessible. We are hoping to meet some more of our customers, so please pop in.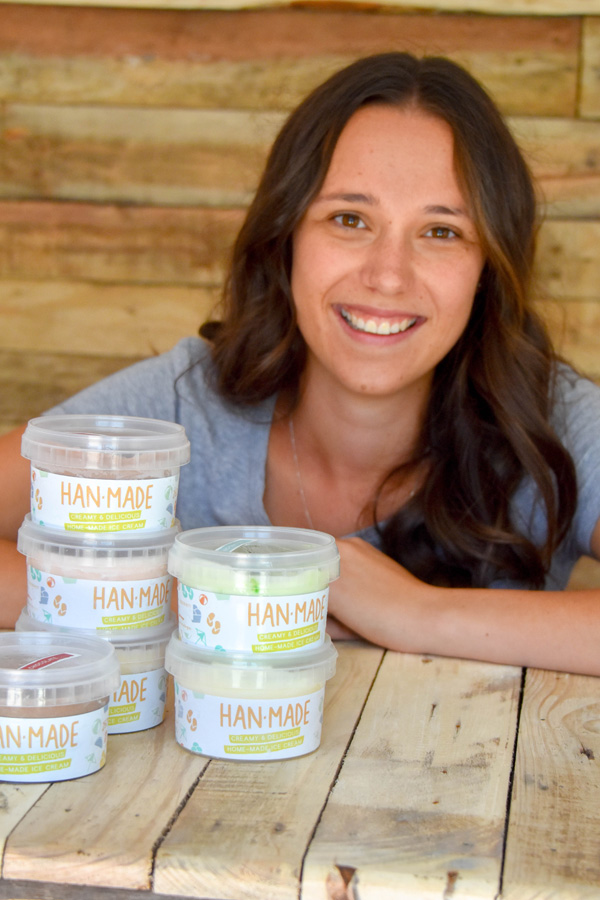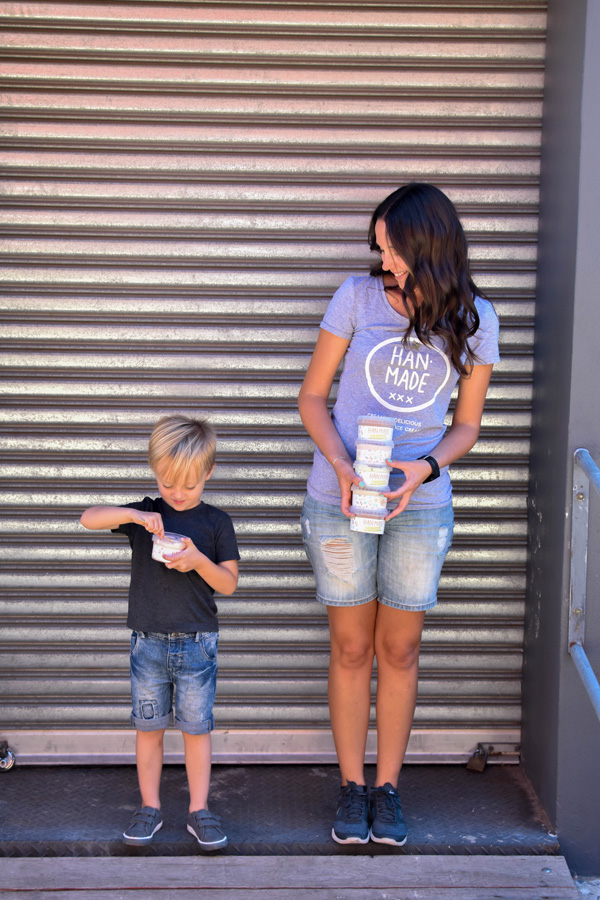 Any inspiring words to readers who are thinking of starting their own business?
Do it! My major recommendation is always to start small, just try things out and see if there is a market for what you are offering. It is much lower risk that way, but at least you are taking steps in the right direction. You will never know if you never try!

JOIN THE HAN-MADE ICE CREAM CLUB
Get 3 x 500ml tubs of ice cream delivered to your door once a month
Hannah says, "you never know what flavours you will get! I like to curate different combinations for people to try, as well as get you to test any new flavours coming to market. Plus, it means you always have an amazing dessert option in your freezer!"
R140 per month
STOCKISTS: Friendly Stranger, Grass Roof, Nova kitchen, Tea Merchant (Baywest),Continental Butchery (Newton Park), Blue Waters Café, Frederick & Son.
Cammie (our cover star) on tasting Han-Made for the first time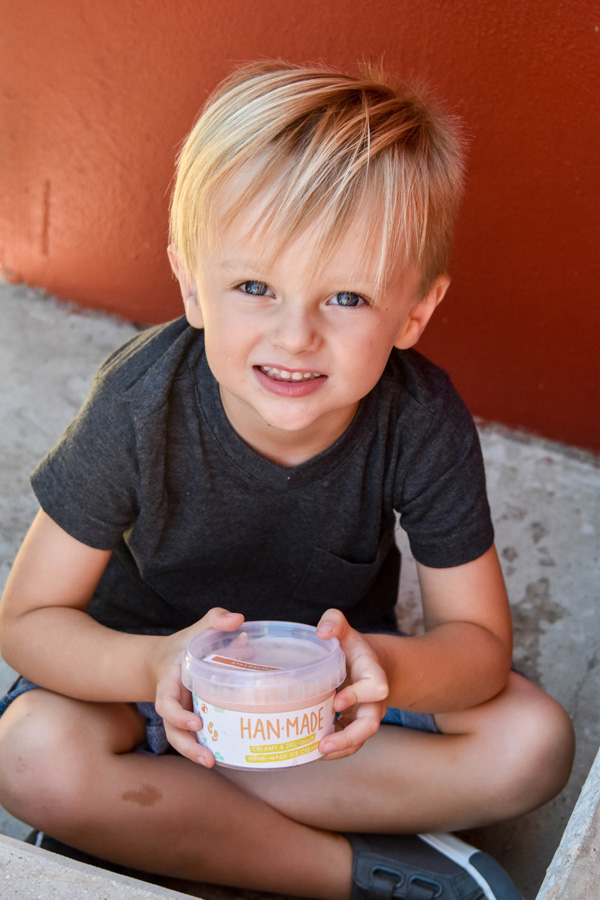 Share this:
Tweet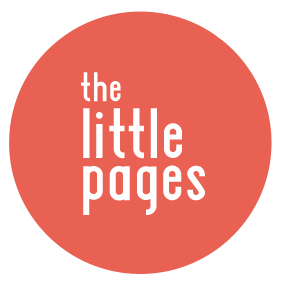 about the author
The Little Pages brings you local content for families in the Port Elizabeth area. We love getting to know interesting parents and business people in the city, bringing you interviews as well as our monthly Mom of the Month feature.

If you have some news that you think may be of interest to parents in our community, you are welcome to contact us and tell us more.
popular posts
Ilze is mom to six year old Ceri and five year old Trace who has Down Syndrome. This single, working mom says that her mothering journey has...
We are super excited to share our first Mom of the Month feature with our readers. Kelly is a beautiful, inspiring mom who is full of joy and an...
Welcome to My Mama Made It! Thank you for taking the time out of your busy day to read the musings of a creative mom, wife, and entrepreneur.