A place for women in all seasons: Pilates, ballet and baby stimulation classses
Posted by The Little Pages - Mar 15, 2016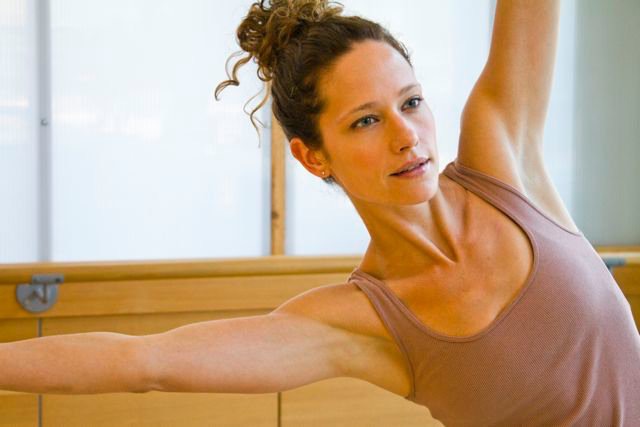 Dona'h Rosser, who has 20 years experience in the wellness industry, runs "The Place for Women Wellness Studio" where women of all ages can enjoy the benefi ts of specialised Pilates and ballet barre classes. Next door, mothers can take part in the Baby Builders programme facilitated by Lauren Staples at her customrenovated studio designed especially for moms and their babies. Dona'h and Lauren recently moved their studios to 250 Main Road, Walmer and couldn't be happier with the new space.

Dona'h shares with us about her wellness studio...
Tell us about your new studio and what inspired you to make the move?
The Place for Women has evolved and changed over the past 10 years from only offering pre and postnatal pilates to now being a fully fledged wellness and exercise studio that offers classes for women of all ages and stages of life.
What classes do you offer women?
Our studio is in the first in Port Elizabeth to offer classes that combine Pilates and Ballet Barre work – Our classes are low-impact and combine the strength you get from pilates with the gracefulness of the Ballet Barre. We have a strong emphasis on long term postural benefits, improved flexibility and increased core and muscle strength.
Why do you think moms love your classes/what is unique about what you offer?
Women love being around Women – it's 1 hour of me-time spent with girlfriends and like minded women, a good chat and a great workout. I love seeing women coming into the studio after a crazy day or morning and leave feeling energized and centred. Our classes are unique in that we cater for All Women, it does not matter if you're 20 or 75, if you have just had a baby or haven't worked out in years, if you have back pain or a knee injury - it's a workout that works for everyone. Our studio is constantly evolving, we create a whole body experience – we are about to launch our own "Wellness Blog for Women", covering healthy ideas, recipe's, green juices, superfood smoothies and everything else it takes to "live well" as women, mothers and grandmothers.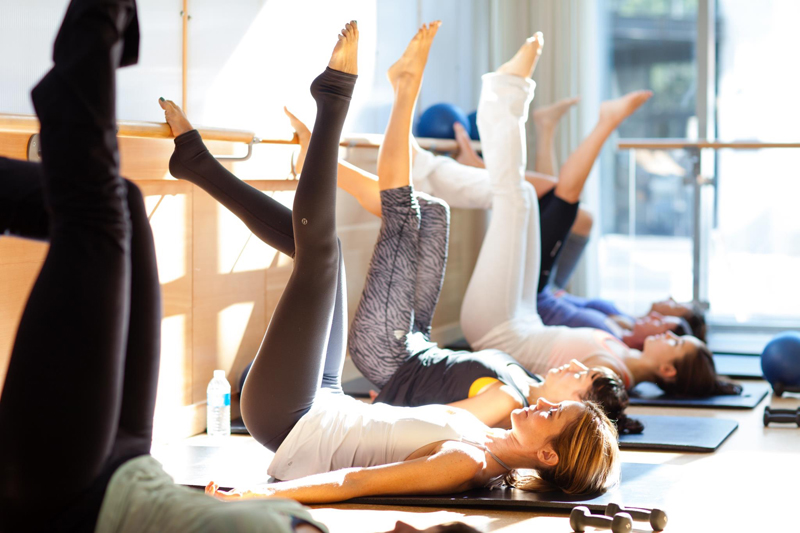 Dona'h offers specialised Pilates and ballet barre classes for women of all ages
Why do you do what you do / what is your background?
I absolutely love what I do, I am inspired by the women that come to the studio. I have worked in the health and wellness industry for about 20 years and it's taken me around the globe from living in the America, UK, Spain and France and now finally back in sunny South Africa. As Women we are the centre of our homes, the core and heart of every family and finding the time for ourselves is usually the last thing on our list BUT it is vital to leading a balanced and whole lifestyle to be the best wife, mother and friend we can be.
Lauren shares with us about her Baby Builders studio...
Tell us about your new studio and what inspired you to make the move?
The Baby Builders studio is a vibrant busy studio dedicated entirely to moms and their babies where once a week mommies can take an hour or two out of their busy day to spend time with their babies and other like minded moms, dedicating this time to stimulating, nurturing, bonding and learning with and about their babies. I love that I share a building with Donah who offers a combination of Pilates and Ballet Barre classes for all women from Pregnancy right to ladies in their 70's - our centre is a stimulating and invigorating place to come.
Having Nesting Place in the centre means that we cater for woman and babies alike meeting all their needs including retail therapy. We have made sure that our space makes the mommies, woman and babies feel spoilt and nurtured in a beautiful space.
I have spent many hours working on the studio so that it can be a beautiful and practical space just perfect for our moms and babies. A lovely undercover outside area caters for tactile play and gross motor stimulation activities and is a lovely place for moms to have tea or coffee and a chat after class while the babies play on various play equipment with tactile experiences galore.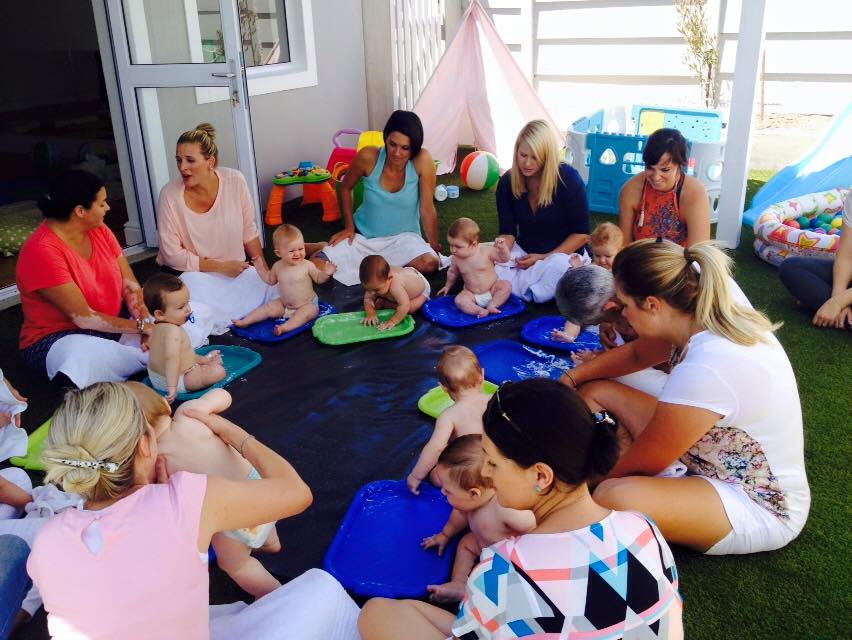 Moms and babies enjoying a Baby Builders stimulation class
What does Baby Builders offer?
Baby Builders offers a unique programme where from 4 weeks babies stimulation and development goals and milestones are worked on in a nurturing and fun way. Each week is unique and different from the week before although certain activities are repeated to ensure continuity and routine.

A typical lesson works on fine motor skills which includes working the hands, feet and mouth, intellectual activities which ensures correct wiring of the brain and perceptual or sensory activities which is all important in the first year as our babies experience the world largely through their five senses. Also lots of gross motor focus which not only works the large muscles in the body but also ensures that the millions of synapses are connected to all parts of the body.

Classes are divided into the Cuddle Babes (4 weeks to 3 months) Here we spend lots of time doing specialised Baby Building exercises which were developed with the help of a physio and and Occupational therapist to connect synapses and help with digestion (colic, constipation and reflux) while working the babies whole little body and all the muscles making sure that bodies are strengthened to meet the first year milestone in the correct order. Brain wiring activities and plenty of sensory stimulation means that our programme is holistic and works on building all the correct foundations. Our lessons also include baby massage which benefits both mommy and baby.

Babies then move on to the Lap Babies from 3 to 6 months and the Creepy Crawlies from 6 to 9 months where activities include outside tactile play and then the Toddling Tots from 9 to 12 months where our programme gets busier and more physically activity with lots of outside gross motor and tactile play. Songs and movement to music also make up a large part of the whole programme. Bonding with your baby and learning about their little bodies and minds and how to stimulate them means that Baby Builders is carried through the whole week even at home.

There are Occupational therapist workshops each term and Daddies Days and various professional visit each term like reflexologists, chiropractors, paediatric dieticians, nutritionists and other professionals who cover all the areas of development in the first year. Baby Builders builds little bodies and stimulates little minds in a wonderfully interactive environment.
What do you personally love about Baby Builders?
I love the way my mommies in my class bond and make lifetime friendships. They say it takes a village to raise a child and the way my mommies support each other is wonderful to see. I love that our studio becomes home to my mommies, a place where they love coming once a week to spend one on one time with their babies while socialising with other moms and babies. I love that my mommies come back with their second, third and sometimes even 4th babies. I love seeing my precious little babies develop from tiny sleepy little newborns to beautiful strong toddlers all within the first year of life.

What is your background?
I have a teaching background and have been building my brand and programmes for 9 years now. I am passionate about what I do and nothing pleases me more that my babies reaching their milestones and growing into strong toddling tots. Also the way the woman in my classes develop into strong capable and amazing mommies.
Share this:
Tweet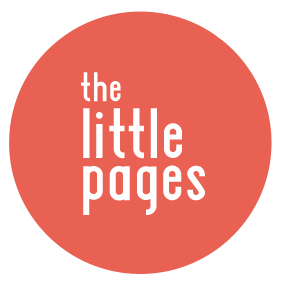 about the author
The Little Pages brings you local content for families in the Port Elizabeth area. We love getting to know interesting parents and business people in the city, bringing you interviews as well as our monthly Mom of the Month feature.

If you have some news that you think may be of interest to parents in our community, you are welcome to contact us and tell us more.
popular posts
We are super excited to share our first Mom of the Month feature with our readers. Kelly is a beautiful, inspiring mom who is full of joy and an...
While lying in my son's bed last night while he fell asleep, I began to think about my parenting journey thus far. A humbling experience to say...
Ilze is mom to six year old Ceri and five year old Trace who has Down Syndrome. This single, working mom says that her mothering journey has...