A Beginners Guide to Introducing Grains
Posted by Greta Williams - Dec 1, 2015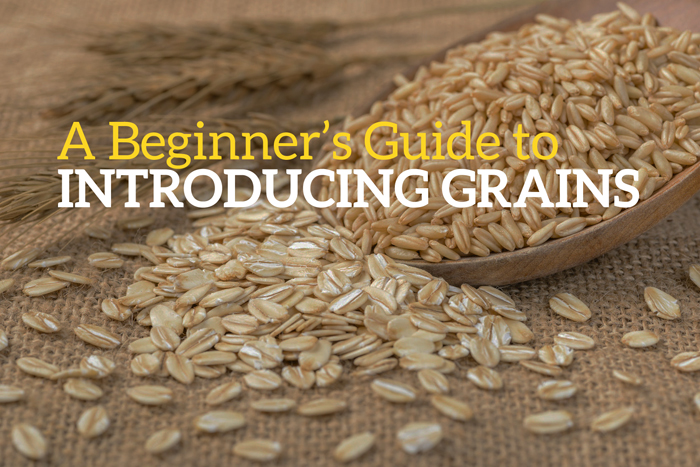 It's fun, easy and satisfying to cook healthy options for baby. The addition of ground grains is a great way to introduce new textures, flavours, and nutrition to your baby's diet.
Why Baby's Grains Must be Ground
Whole grains are difficult to digest so the grinding/cooking with extra water aids baby's digestion. It is recommended to only start feeding baby ground, cooked whole grains from age 6 months. Organic Oats and Millet are easiest on baby's tummy. At 7 months, you can grind Quinoa; 8 months, Organic Brown Rice, as well as other healthy extras such as lentils, beans, flax seeds, etc.
Isn't Instant Easier?
The nutritional value from instant cereals is slim to none. During the processing, the vitamins & nutrition are stripped completely. Baby is unable to absorb the marketed "Added Vitamins" so they simply pass through. Realistically, it's better to skip cereal altogether and add more fruits and veggies than to rely on instant cereals. BEWARE to especially stay away from flavoured cereals, as they're full of harmful chemicals and sweeteners.
Getting Started
"Being prepared is half the battle won." Especially if you're a parent holding a screaming, hungry 7-month-old! Luckily for home cooked ground grains, all you need is a coffee grinder* (not used for coffee please), ¼ cup measuring cup, pot, & whisk.
1. First select the grain you'd like to introduce into baby's diet. If you can afford it, buy organic; but if you're on a budget, any non-GMO quality sourced grain is fine.
2. Measure ¼ cup of whole grains and put in the grinder.
3. Pulse the grinder until near flour-like powder. As baby gets older, pulse for less time to make grains a bit chunkier.
4. To cook, measure 1 cup water and put in a saucepan. Bring it to a boil. Remove from heat and whisk the ¼ cup of grains into the water. Return to LOWEST heat setting (for electric cook-tops, whisk constantly at first as the burner doesn't immediately cool to LOW). Cook for 10 minutes. To avoid scorching, whisk every few minutes.
5. Add more water, if needed, to get the desired consistency OR if grains are scorching. Millet is very dense, so they need a bit more water; oats are light, so they need less. Use the basic 1:4 ratio of grains to water for ALL ground grains & legumes, and adjust from there.
6. Allow grains to cool in the saucepan. Divide cooled grains into 4 portions. Feed baby 1 portion that day and save the other 3 in small tubs in the refrigerator for up to 3 days.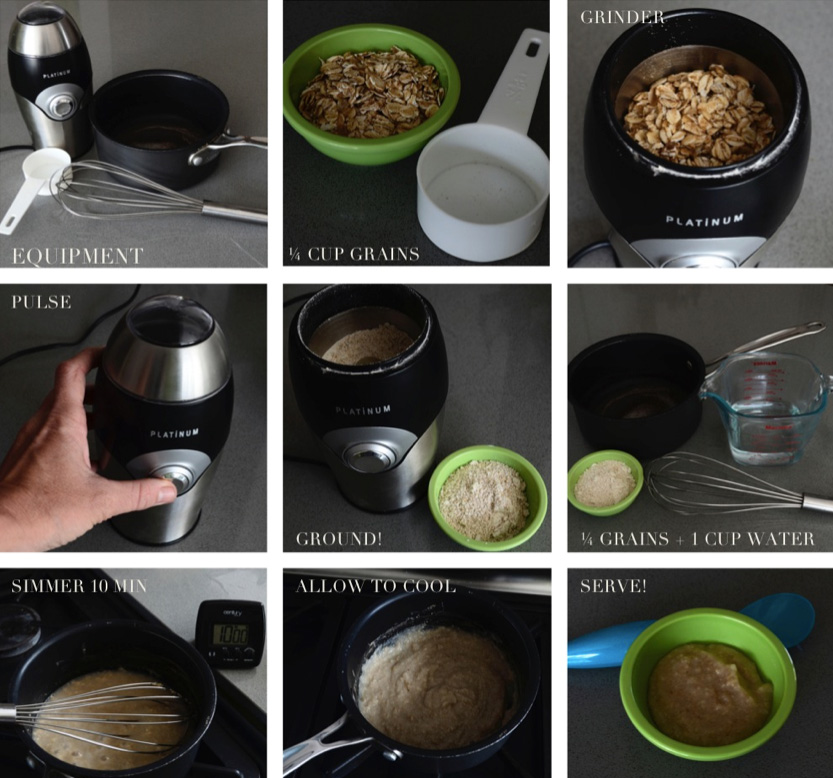 TIPS:
TIME SAVING: You can grind bulk grains in the grinder and keep in a sealed glass jar in the refrigerator for up to 30 days. You can also freeze uncooked ground grains for long life, but like all things: the fresher, the better.
FOR VARIETY: try mixing different grains. Put ¼ cup brown rice and ¼ lentils in the grinder and grind together. Or put a tbsp of 4 grains and some flax seeds in the grinder to make a Super Porridge! It's fun & tasty—and oh so good for baby.
After Baby Food
Grinding grains can be part of your cooking experience long after baby is done with pureed foods. "Healthy Extras" can be added (or hidden) in many different ways. I add freshly ground flax seeds to almost all of my flours; I've even breaded chicken in it! You can grind pumpkin seeds, sunflower seeds, oats & flax to add to any muffin or flapjack batter for added nutrition. The options are endless.
*The best coffee grinder for grains is the cheapest one you can find, I promise.
For more in depth information about grains and nutrition, visit www.NurtureNaturally.co.za and see the Ground Grains page.
Share this:
Tweet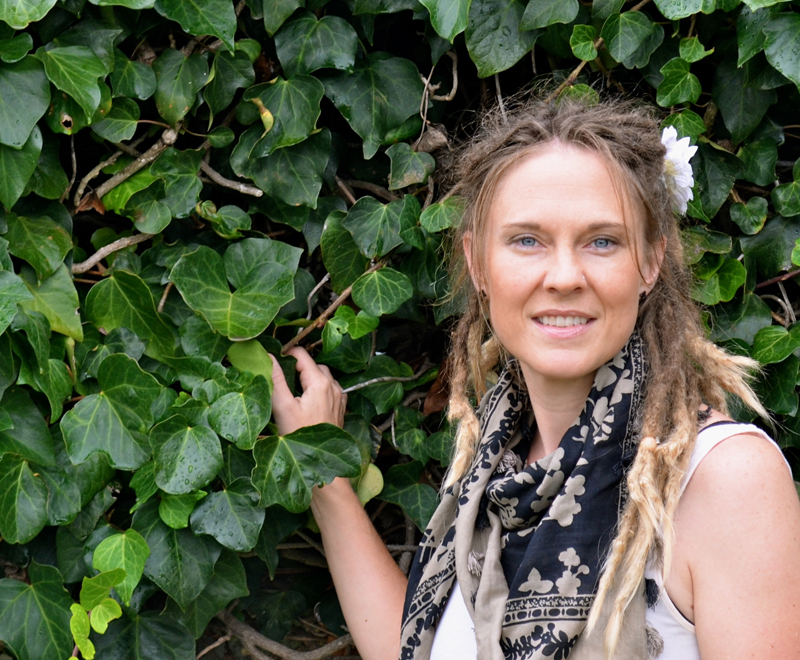 about the author
After giving birth to a premature son with numerous medical issues, I learned that breastfeeding and an all-natural diet would give him the best chance of someday being medication-free. Ten years, and tons of research later, I am inspired to share my accomplishments... and warn of my mistakes.

In 2007 I became a trained spokesperson for the Feingold Association, dedicated to using diet to help combat the 4 A's: asthma, allergies, autism, and ADHD (It is estimated that 1:3 children are now diagnosed with at least one of these aliments). I am also a nationally (United States) certified Bradley® Natural Childbirth instructor advocating for unmedicated births. I have recently spoken on behalf of Feingold for ADHASA, a South African organization dedicated to help those learning to live with ADD and ADHD. Most recently I've been asked by Feingold to head the South African side of Feingold, both online and in speaking engagements.

Feeding my children homemade, healthy food is the most rewarding job I have ever had, but I did feel overwhelmed and frustrated at times. I hope that through chatting to parents through sites such as these, as well as offering one-on-one consults, parents will obtain the knowledge and confidence they need to ensure healthy eating habits for the future.

As a result of my experience with my children, my love of all things natural, and my nutrition education through Feingold, I started Nurture Naturally in 2013. The aim is to make healthy options easy and affordable. For those working, busy or kitchen-phobic parents, I offer a wide variety of healthy options to ensure baby's health. Nurture Naturally makes baby food the way it should be—naturally. The food is free of preservatives, fillers, additives, sweeteners, flavours, and colours. Instead it is full of tastes, textures, and nutrients essential to baby's constantly growing body.

I strongly believe that everyone would benefit from a natural diet and limited artificial substances.
popular posts
We are super excited to share our first Mom of the Month feature with our readers. Kelly is a beautiful, inspiring mom who is full of joy and an...
Ilze is mom to six year old Ceri and five year old Trace who has Down Syndrome. This single, working mom says that her mothering journey has...
Welcome to My Mama Made It! Thank you for taking the time out of your busy day to read the musings of a creative mom, wife, and entrepreneur.